Chippewa Acres Farm Budgies for Sale

This is a listing of what is currently available as of 11/22/2021.  I am looking to sell the whole flock plus all breeding, flight, and other cages and accessories for $8,000.00.  There are more birds not pictured hatched in 2021, approximately birds 30 in total.  Great opportunity for someone looking to get into the hobby. 

Split JH = at least 1 parent is a Japanese Hagoromo

Crestbred = at least 1 parent is a visual crested

English Crested = larger in size than small pet store budgies

Shipping is available at an additional cost (shipping price will include the cost of  airfare, crate, perch, etc.) Typically between $185-250 depending on the airport I have to ship from.  USPS is also available and varies by zip code.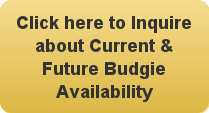 Pricing

$50 & UP - English Budgies, price increases with size and "rare" color mutations

$100 & UP - Split JH or crested with at least a tuft, price increases with more JH feather features

$200 & UP - English Crested or Split JH, price increases with more size and JH feather features 

$600 & UP - Japanese Hagoromo, these birds will have all features of the Japanese Hagoromo or will be 100% JH

DISCOUNTS AVAILABLE FOR MULTIPLE PURCHASES, 3 or more. 

AVAILABLE FOR SALE - Hens are only available in pairs(male must be priced equal to or greater price than the hen)

#3 2015 hatch, English Lutino Hen $300

#2 2015 hatch, English Olive Spangle Cock $200

#10 ?? hatch, JH Blue Yellowface Hen $750

#8 2020 hatch, Split JH Olive Spangle Cock $350

#5 2018 hatch, Split JH English Blue Yellowface Cock $350

#11 2020 hatch, JH Blue Yellowface Cock $750

#9 2016 hatch, JH Blue Spangle Opaline Hen $650

#7 2020 hatch, JH Sky Blue Hen $750

#14 2018 hatch, JH Blue Yellowface Spangle Opaline Hen $750

#12 2020 hatch, JH Blue Yellowface Cock $750

#4 2018 hatch, Split JH Sky Blue Spangle Opaline Hen $450

#16 ?? hatch, JH Blue Yellowface Cock $650

#17 2018 hatch, JH Blue Dominant Pied Opaline Hen $750

#19 2020 hatch, JH Sky Blue Yellowface Cock $1,000(hand tame, nesting)

#20 2018 hatch, JH Grey Dominant Pied Opaline Cock $750

#15 2020 hatch, JH Blue Cock $750

#1 2020(late) hatch, JH Blue Yellowface Cock $750

#21 2018 hatch, JH Blue Yellowface Dominant Pied Opaline Cock $1,000

#22 2020(late) hatch, JH Blue Cock $750

#23 2018 hatch, JH Blue Hen $700

#18 2018 hatch, JH Blue Yellowface Hen $750

#13 2020 hatch, JH Blue Spangle Cock $750

#6 2019 hatch, JH Blue Yellowface Cock $750